What is great about Celsius interest rates is that we offer the lowest ones in the industry!
Starting at just 0.7% (APR), the interest rate varies based on your loan-to-value ratio, meaning that the more collateral you put down, the lower the interest rate you pay.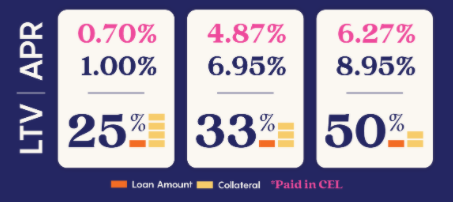 On top of that, you will always get the lowest paying rates when using CEL tokens, which means that if you choose to pay the interest for your loan in CEL tokens, you can pay even less.
When applying for a loan you can use the "Calculator" tool on the app to find out exactly what the interest rate would be for the amount of collateral that you're considering putting against your loan.

But no matter what, we are sure that we'll find the right rate for you. You can check out our borrowing page for more information or get in touch with us at loans@celsius.network if you need any additional help. We are here to help!