Awesome question, thank you for your interest!

In order to get your onboarding process started you will need to complete this form. The form is encrypted and 100% secure, so you have nothing to worry about.
On it you will find 4 drop-downs and they all need to be filled in. Make sure you click on the arrows located on the right so the full form opens up.

Once you enlarge each section, you will be able to see all the information required.

When all sections are completed, the next step is to upload the relevant documentation. The documents required are for both the company, as well as the directors, beneficiaries and primary account holder. You will find at the bottom of the list a button that you can click to add the files, or alternatively, you can simply drag and drop them.
You're almost there. The last thing you need to do is tick the certification boxes, accept the T&C and submit! A member of the team will get back to you shortly.

You can find this option for Corporate Onboarding at the bottom of each page on the website and it looks like this.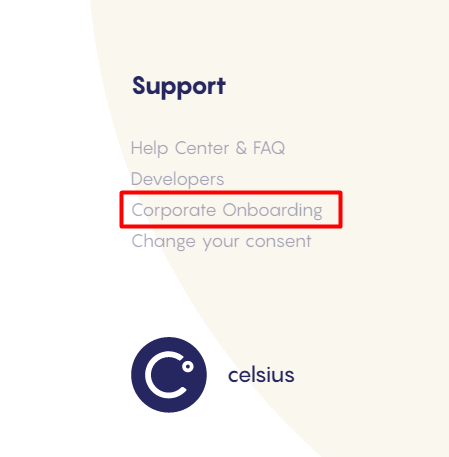 In case you are looking for any other sort of collaboration, please send us an email with your proposal to bd@celsius.network and we will get back to you as soon as possible. We look forward to working with you!