What is ACH?
ACH (Automated Clearing House) is an electronic network used for moving funds between financial institutions' accounts across the United States. Celsius uses the ACH system to move payments from your financial institution account per your specific request.
The ACH transfer system typically takes up to 5 business days to complete after payment was initiated. Once the ACH is approved, you will see your ACH transfer in your Celsius transaction history with a pending status. When you authorize us to withdraw, Circle (on behalf of Celsius) will convert your funds to USDC to be transferred to Celsius. After the ACH settles and Celsius receives the USDC payment, the transaction amount is added to your account and you will be able to earn yield, swap, or perform other actions.
What are business days?
Usually, business days means Monday–Friday, 9 am–5 pm. National holidays and weekends are not counted as business days.
When you place an order after 5 pm on a weekday, the ACH transfer is not initiated until the following business day. Your transaction details will always show the expected completion date of your order taking all of these factors into account.
What is Plaid?
Plaid Inc. is a financial technology company. Plaid enables users to verify and connect their financial institution account to Circle. This allows Celsius to request payments that will be processed by Circle through the ACH network.
What is Circle?
Circle Internet Financial Limited is a global financial technology firm that enables businesses of all sizes to harness the power of digital currencies and public blockchains for payments, commerce, and financial applications worldwide. In this capacity, Circle will process the ACH requests initiated by you to buy USDC and credit it into your Celsius account.
What are your ACH limits?
Celsius' current limits for ACH payment to buy USDC are as follows:
Minimum ACH payment: $50 per transaction.
Maximum ACH payment: Up to $25,000 daily/$75,000 weekly/300.000 monthly.
Celsius may change such limits, or impose further limitations on particular accounts, based on, among other factors, transaction history, jurisdiction, risks identified, and know-your-customer (KYC) requirements.
Check with your financial institution to learn their daily and weekly ACH limits as they may be lower than Celsius' ACH limits.
Are there fees for ACH transfers?
$1 USD per ACH is the standard fee per successful transaction. However, if you have successfully transferred $50 or more via ACH, Celsius will cover your fee for that transaction.

If your ACH transfer was declined for any reason, Celsius is charged a $10 USD fee which we will pass on to you.
Check with your financial institution for any unique fees they may charge. Celsius is not responsible for any fees that your financial institution charges on its end.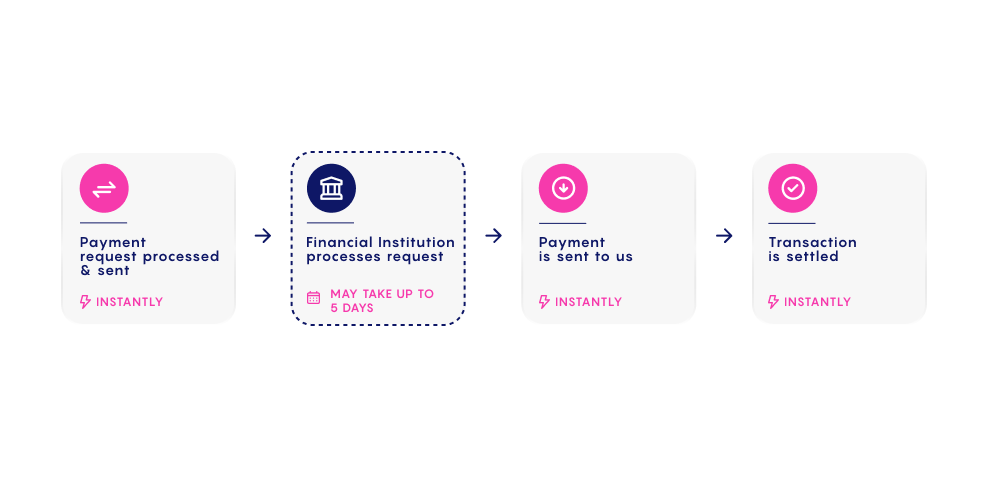 How long do ACH transfers take?
ACH transfers normally take up to 5 business days to clear while non-US ACH transfers might take longer. Until the ACH transfer clears, you will see the transaction in your Celsius transaction history with a pending status. After the ACH transfer settles and Celsius receives the payment, the transaction amount is added to your account and you will be able to earn yield, swap to other coins, or perform other actions under the Celsius platform.
Can I link a bank account in someone else's name?
No. Celsius users are only allowed to initiate ACH transfers from bank accounts under the same name as their Celsius account.
--
We may request that you submit additional verification information to access the ACH transfer feature. ACH Transfers may be delayed if you are unable to provide us with the required account verification information.
Check out our Buy coins website page for more information on this topic. For any additional questions, feel free to connect with our Customer Care team.