What is the 'Travel Rule'?
The Travel Rule is a regulation that mandates Financial Institutions to exchange information about the originator and beneficiary of transactions and provide the following information for their transactions:
Identification of the whitelisted wallet address to which they are sending funds Confirmation whether the beneficiary wallet is controlled by the same Celsius account holder or by someone else

Identification of the beneficiary Crypto service provider (e.g., Coinbase) for hosted wallet addresses
On May 9th, 2019, FinCEN published guidelines confirming that Money Service Businesses dealing with crypto assets are required to adhere to the Travel Rule requirements (Bank Secrecy Act (BSA) rule [31 CFR 103.33(g)]).
To learn more about the Travel Rule, see Travel Rule FinCEN Advisory.
How do I fulfill the Travel Rule requirements?
You will be asked to provide additional information when adding or editing a wallet address in your account.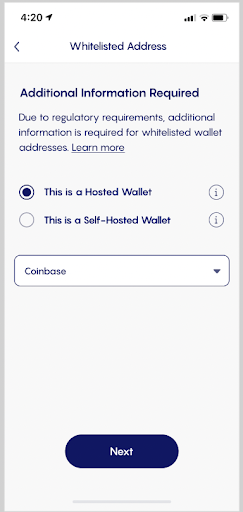 A

Hosted Walle

t

is a type of crypto wallet that is managed by a 3rd party, like an exchange.

A

Self-Hosted Wallet

is a type of crypto wallet where you store and manage your crypto on your own device (e.g., a "hardware wallet," phone or computer), and the crypto is not stored or controlled by a 3rd party.
For security purposes, changing a whitelisted wallet address for any coin requires user confirmation via email and a 24-hour lock-down period before funds can be sent to that wallet address from your account.
Please note that if your withdrawal address is already whitelisted, you will still be required to complete the new Travel Rule requirements. However, your edited wallet address will not be locked for 24 hours after you provide the required information.